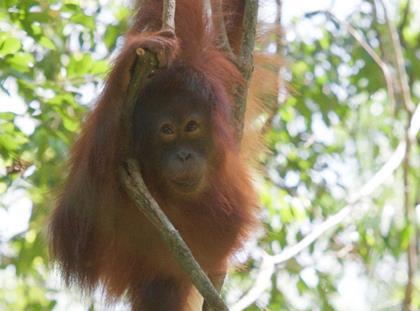 Several of the world's largest palm oil producers have launched an initiative to support the management of wildlife on plantations in Borneo.
The scheme, called the Pongo Alliance, has the support of growers Wilmar, Sime Darby and Musim Mas, alongside the Orangutan Land Trust, wildlife conservation groups and NGOs.
It hopes to save 10,000 orangutans in Borneo by committing to "sustainable landscape management" across the island, and recognising the responsibility of producers to ensure minimal impact on local biodiversity.
The population of orangutans has more than halved in the past 50 years due to intensive agriculture, poaching and illegal logging.
However, research by Borneo Futures, Orangutan Land Trust and Wilmar has suggested there are ways for palm oil plantations and orangutans to co-exist, such as using landscape management.
This approach looks at conservation on the island as a whole, rather than individual plantations, on the principle that wild animals do not stay within specific boundaries.
An informal collaboration to prevent the extinction of orangutans living on palm oil plantations was initially founded in 2015. However, the Pongo Alliance formally launched this week after reaching 14 members. The group will now work to engage local governments, certified and non-certified palm oil companies on the island to help implement sustainable landscape management.
"The Pongo Alliance's approach is to engage with all stakeholders on the ground, including palm oil companies, local governments and local communities to implement best management practices for the protection of orangutans and wildlife in the oil palm landscape," said Ginny Ng Siew Ling, forest sustainability manager at Wilmar International, which according to Amnesty supplies palm oil to Kellogg's, Unilever and Nestlé.
It follows the news that the Roundtable for Sustainable Palm Oil has seen its membership increase by almost 10% over the past year, meaning it now has more than 3,400 members across the palm oil supply chain.
Source: The Grocer
https://www.thegrocer.co.uk/buying-and-supplying/sourcing/palm-oil-producers-team-up-to-support-wildlife-in-borneo/554074.article#commentsubmitted